Divorce Done Right: A Guide to Family Law in Singapore
Written by the team at Singapore Family Lawyers, the book seeks to educate couples and increase awareness about family law in Singapore. It approaches the divorce process with an emphasis on minimising acrimony to provide space for the healing journey ahead. All proceeds from the sale of this book will go towards the Children's Aid Society.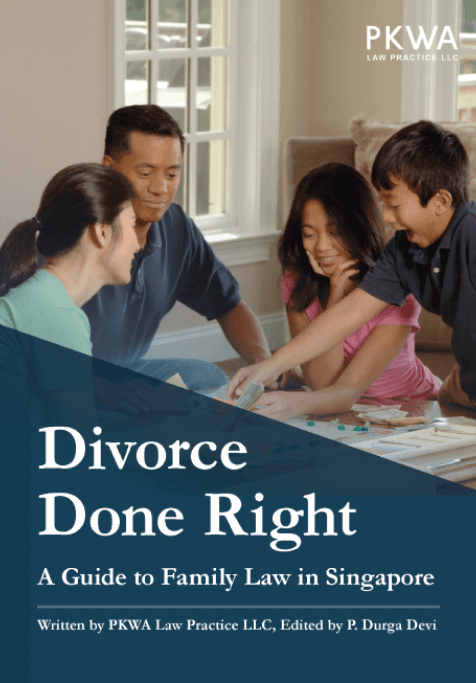 Available from leading retailers,
in store and online.

Comments from Singapore
Family Lawyers.
We've seen how families lose their appeal and affection for each other during lawsuits; it can become very stressful for everyone involved. While every family is unique and faces different challenges, the law applies equally to everyone. Family law matters require sensitivity and sound advice. We hope this book, which is written by the family lawyers at PKWA Law, can help families and couples navigate through what is most likely the toughest time in their lives.
A family unit is complex; matters such as divorce are often driven by emotions and become a challenging journey. Legal experts can help families navigate the legal issues and address specific emotional matters to reach an amicable consensus. Proper understanding and guidance about family law becomes vital as it allows families to make informed decisions. We believe that a family can go through a difficult time still coming out whole.
Why do clients choose us?
We have over 30 years of history, and more than 100 employees. We are an established family law firm you can count on.
Our fees are fixed and affordable from the outset so that you can have peace of mind from the get-go.
We have excellent reviews and testimonials from numerous clients across various independent platforms.
Our team are consistently recognized as leading lawyers by the Straits Times, and other leading publications.
We are trusted by leading corporations such as DBS, OCBC, UOB, Maybank, HSBC, Citibank, and CPF Board.
We usually offer a free first consultation so you can make an informed decision on whether to proceed.